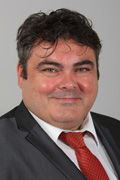 Blog by Principal Reporter
Hello, I am Neil Hunter, I am Principal Reporter and Chief Executive Officer at SCRA.
In April 2015 SCRA became proud Corporate Parents of Scottish children and young people in the Children's Hearings System who are on Compulsory Supervision Orders.  
SCRA's Corporate Parenting Duties include delivering a service that promotes and protects the best interests – and rights – of the children and young people referred in to, and who are part of, the Children's Hearings System.  This is an extremely important role, and delivering these functions to a high standard will ensure that children and young people's best interests are met, and that their experience of Children's Hearings will be more positive, inclusive, supportive and holistic.   
We remain dedicated to making sure that our services, advice and support  are easy to access, and have demonstrated our on-going commitment to this prior to the implementation of the Corporate Parenting duties outlined within the Children and Young People (Scotland) Act (2014).  
This is evidenced by the extensive consultation and participative work that we have been doing since 2009 (with care-and Hearings-experienced children and young people) to improve our services.  SCRA involve Hearings-experienced young people in almost every aspect of our work, from reviewing and creating our communications, to designing our Children's Hearing rooms, to interviewing and appointing members of staff, to working within the organisation undertaking Modern Apprenticeships, to influencing policies, procedures, and funding at Executive Management and Board level.  
We are now delighted to have the opportunity to undertake and demonstrate our duties within more formalised guidelines as Corporate Parents in Scotland.